Leaf Springs
OEM & Custom • Manufactured By EATON Detroit Spring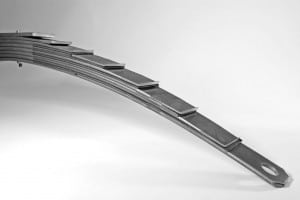 Restore your vehicle back to it's prime – no matter when that was – with our factory and custom leaf springs.
The world's leading custom shops, companies, and hobbyists all use our springs for good reason: nobody can beat our design process, utilizing rare original blueprints to produce springs as close to the original as possible.
Whether you're restoring that Camaro or building a custom, all original hot rod, we can help provide the springs you need to get cruising smooth and level.
Springs made by EATON Detroit Spring are…
Designed with the Original Factory Blueprint
Made with SAE 5160 High Alloy Spring Steel
Made with rolled and tapered ends when appropriate
Shot peened for longer life
Customizable to meet special needs
The Correct Leaf Springs…
Connect the axle to the vehicle
Support the weight of the vehicle
Provide stability and resistance to side sway and rollover
Transfer driving and braking forces between frame and axle
Resist drive and brake torque, known as wrap up
Provide minimum changes in drive axle pinion
Maintain proper wheel caster and camber
Most Popular Tech Resources
Leaf Spring Tech Questions