About Our Company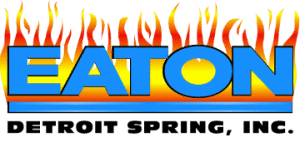 Since 1937, car guys and gals have bought from, trusted, and shouted from the rooftops all about EATON Detroit Spring.
Here's just a couple reasons why:
We have over 24,000 Original Manufacturer Spring Blueprints. So can we make springs for your vehicle? Probably. And if we can…
Our springs will fit your vehicle perfectly. If you give us accurate information and install your springs correctly, you will never have a problem with our springs.
Our experts are always willing to help. Have a question, don't know what to get, or just want to order from somebody who knows what they're talking about? That's what we specialize in.
If you're looking for springs, what are you waiting for? Order now by clicking the button in the sidebar to the right, emailing us at sales@eatonsprings.com, or by calling 1-313-963-3839
If you want to know what realizing the American dream really looks like, read on.
Frank and Grace
The year is 1937 and we're in the middle of the Great Depression.
Unemployment is 25%.
The banks have failed, throwing people out of their homes and into crowded and insufficient bread lines.
Most of the country is stalled in fear, but Frank and Grace Eaton only see opportunity, so they sell everything they have left and buy the aftermarket division of Detroit Steel Products for $11,000.
A Risk For A Dream
With this risk, they started building their personal empire and picked themselves to win when others were too afraid to play.
A few years after the purchase, Frank and Grace were told their lease would not be renewed. So they picked up everything and moved, lock stock and barrel, to the corner of Michigan and Trumbull. You might recognize that as the former home of Tiger Stadium.
It's also where we're still located.
Today
Many years have gone by and we still use the plant to produce springs, giving us the experience and time required to become the leading manufacturer of leaf and coil springs for the restoration and street rod markets.
We've accrued over 24,000 Original Equipment Spring Blueprints over the years, giving us the leading edge in leaf spring design and manufacture over everybody else in the industry.
Mike runs the company now, along with his daughter Kim, the grandson and great-granddaughter of Frank and Grace.
If you're ever in the neighborhood, stop by for the nickel tour. (We haven't updated the price since 1937.)