Free Stuff For Car Shows
Pens and Stickers Galore
Interested in having some free stuff to give out at your next car show?
Send Sandy an email at sandy@eatonsprings.com with all the below information and we'll send you EATON Detroit Spring pens and stickers free of charge!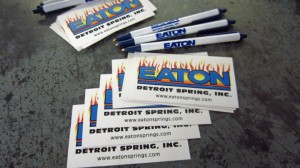 Here's what you'll need to send over…
Proof of actual event. May be in the form of a flyer and/or web site. Previous experience with the requester may be considered proof, and will be taken into account.

(NOTE: To email flyers or proof of event, include in the body of the email. Do Not send as an attachment. Attachments will not be opened or considered.)

Overall attendance expected
Quantity of materials requested
Any charities benefiting from the event
Date of the event
Requested date of materials to arrive
Address to send the shipment to
Contact Name and Phone Number
Monetary, Gift Certificate, or other specific requests will be considered on a case by case basis
Due to the number of requests we receive, we are unable to reply to each individual request.