Leaf Springs
OEM & Custom • Manufactured By EATON Detroit Spring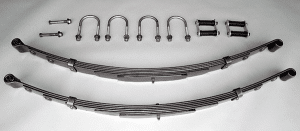 Restore your vehicle back to it's prime – no matter when that was – with our factory and custom leaf springs.
The world's leading custom shops, companies, and hobbyists all use our springs for good reason: nobody can beat our design process, utilizing rare original blueprints to produce springs as close to the original as possible.
Whether you're restoring that Camaro or building a custom, all original hot rod, we can help provide the springs you need to get cruising smooth and level.
Custom Leaf Springs To Lift Or Lower Your Vehicle
Your vehicle's suspension was built to work with a specific leaf spring and designed to sit your vehicle at a certain ride height. Every year we redesign thousands of leaf springs to adjust the ride height, both up and down, to match what customers would like it to be. And we do this without sacrificing ride quality. Most applications can be raised or lowered a maximum of 3-inches. If you have a question regarding a custom leaf spring design, feel free to contact us.
Replacement Leaf Springs Built To Blueprint Specs
We have thousands of blueprints for American vehicles manufactured over the past century, which is why we're the number one leaf spring manufacturer for the restoration, street-rodding, and resto-mod industries. Our springs will literally have your vehicle sitting like the first day off the lot, no matter what year that was. Request a quote for your restoration project, order springs from our online database, or give us a call to learn more about how we can help you restore your vehicle's suspension.
Attaching Parts and Installation Kits
We provide shackles, bushing, u-bolts, shock absorbers and other attaching parts for thousands of leaf spring automotive applications. Replacing your attaching parts when installing a new set of springs is a necessary step to any project, and we aim to make that as easy as possible by providing the right parts for your vehicle from the start. Once you have the right parts, be sure they are installed correctly by reading our article on adjusting U-bolt torque.
Springs made by EATON Detroit Spring are…
Designed with the Original Factory Blueprint
Made with SAE 5160 High Alloy Spring Steel
Made with rolled and tapered ends when appropriate
Shot peened for longer life
Customizable to meet special needs
The Correct Leaf Springs…
Connect the axle to the vehicle
Support the weight of the vehicle
Provide stability and resistance to side sway and rollover
Transfer driving and braking forces between frame and axle
Resist drive and brake torque, known as wrap up
Provide minimum changes in drive axle pinion
Maintain proper wheel caster and camber
Most Popular Tech Resources
Leaf Spring Tech Questions